Smart Lighting Control Systems
Loxone offers you endless flexibility and functionality to elevate your living spaces with smart lighting. The perfect lighting for any space and every occasion. 
Smart Home Lighting Features
Transform your home with Loxone's smart lighting system and experience ultimate convenience and control at your fingertips. From dimming to colour-changing options, elevate your spaces while saving energy with the most intelligent control.
Ability to create and amend 'lighting moods' for bespoke lighting in every room.
Using presence sensors, the lights turn on when you enter a room and switch off when you leave.
Ability to mimic natural lighting to wake you up in the mornings and wind you down in the evenings.
Integrate with alarm or doorbell systems for silent alerts.
Why Invest in a Smart Lighting System?
Far more than just lights, smart home lighting systems have a myriad of benefits that make them an incredible investment.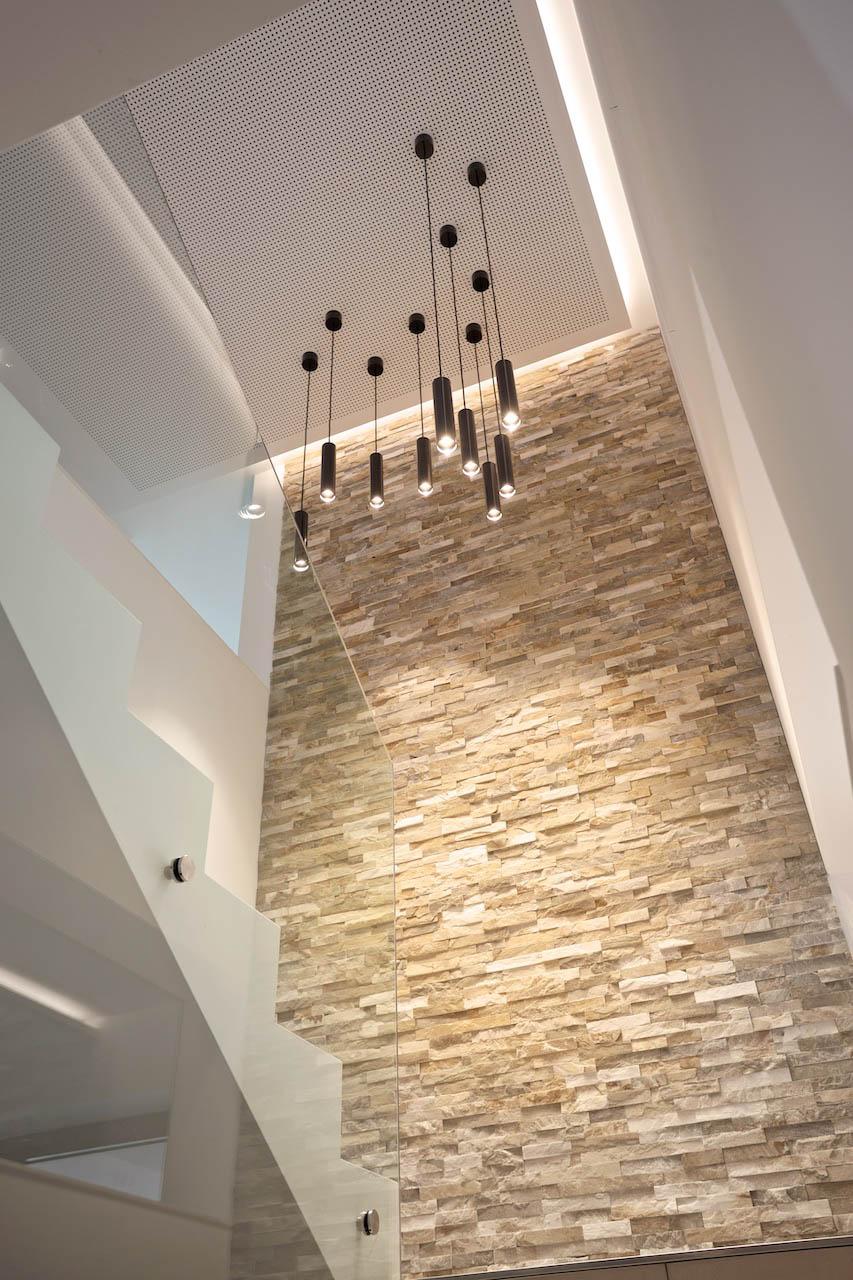 Effortless Lighting
Lighting can significantly change your perception of a room -  this is why it's so important to have full control and take things further than 'on or off'. A properly thought-out lighting design, that offers both functional and aesthetic lighting, can create the perfect atmosphere in any space. With a mix of ambient lighting, task lighting, accent lighting, and Loxone to take control of it, you're ready for every occasion. 
The ease of operating the lighting is as impressive as the lighting itself. A truly smart home intelligently delivers the right amount of light in every room – taking into consideration the likes of motion, time of day, current natural light levels and more. Your home should know what lighting you need, when you need it.
For example, the Loxone presence sensors have a motion sensor to detect movement, a lux sensor to detect natural light already in a space, and a microphone to detect noise, ensuring control is considered for all eventualities. This means you will rarely need to touch the light switch and can experience true automation.
Smart Home Lighting Installation from Automate London
At Automate London, we understand that each project requires a unique approach. We provide a full-service smart automation solution tailored to our client's individual needs - from the initial design phase right through to installation and maintenance. 
Our expert team of friendly professionals are on hand to ensure that the most is made of your smart home lighting system, providing guidance and support throughout the entire process. Utilising our wealth of knowledge and experience, we can ensure that your vision becomes reality.
Choosing Loxone to install your smart home lighting guarantees quality integration across the building  to seamlessly create a fully secure and automated smart home. Our solutions will enhance your environment, providing ambience and customisation in everyday life. Why not check out the other feature pages on climate control, multiroom audio, security and access and energy management? 
More from Automate London
Get in touch to book a showroom tour