Smart Climate Control Systems
Feel more comfortable at home with climate control technology, ensuring that your house is always at the perfect temperature. This fully automated system optimises energy efficiency, whilst ensuring maximum comfort. 
Smart Climate Control Features
Imagine a home where every room was at the perfect temperature. With intelligent heating and cooling control, this could be your reality. You can automate your heating, cooling and ventilation system schedule to ensure that you are always comfortable. What's more, Loxone will try to use free methods of climate control to guarantee energy efficiency and savings.
With zoned room control, have each room set to different temperatures. 
Completely flexible - works with underfloor heating, traditional radiators or any other heat source.
Presence based heating, only heat your house when you are home.
Providing peace of mind with Frost Protection whilst you're away.
Why Invest in a Smart Climate Control System?
The goal of climate control technology is to provide a comfortable living or working environment, by maintaining optimal temperature, humidity and air quality levels, whilst at the same time reducing your energy consumption and costs. Discover the abundant ways you could benefit from a smart climate control system from Automate London.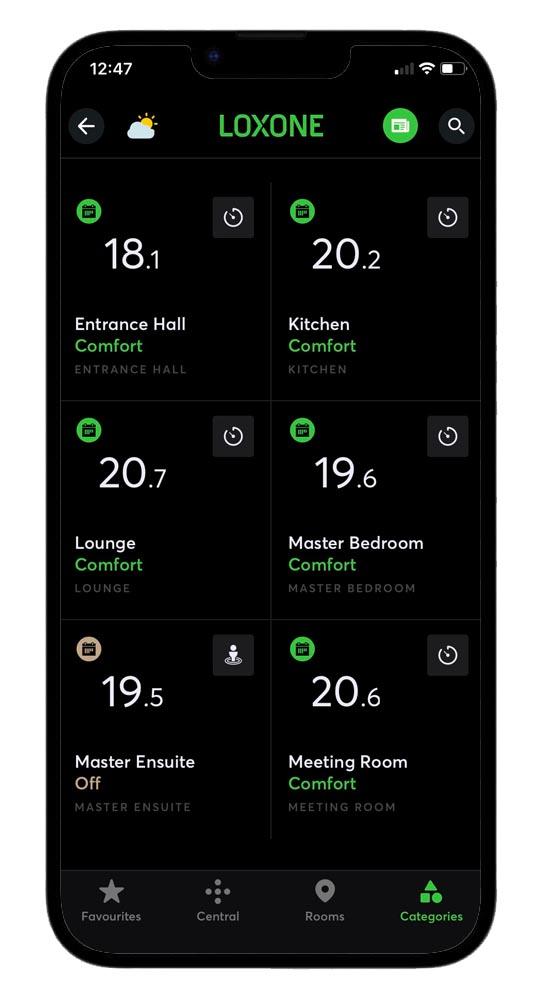 Smart Climate Control That is Truly Smart
With rising energy prices there are lots of options of  'smart heating controls'  on the market. However, most simply give you a traditional heating timer as a smart phone app. Loxone goes much further and controls the climate of each room in your house based on your personal preferences, using the most energy efficient methods available. The holistic approach, using presence detection and passive cooling and ventilation is unparalleled by any other manufacturers. 
It is not as expensive as you may think- Loxone does not replace all the heating equipment, but mainly controls it in a holistic way to get more out of the equipment you are already installing. 
Smart Home Climate Control Installation from Automate London
At Automate London, each and every project is unique to us. Whether it's climate control or one of our other integrated services, we are there at each step of the journey, allowing for a seamless and holistic delivery of your installation.
Our highly experienced team is on hand from concept to reality, so you can be certain you're getting the most out of your climate control system. 
Choosing Automate London to install your system means ensuring you get the most out of this experience. Our climate control system can save you money, boost energy efficiency and make life more convenient and hands-free. Loxone provides best value when combined with the extensive range of features. Why not check out the other feature pages on lighting control, multiroom audio, security and access and energy management?
More from Automate London
Get in touch to book a showroom tour